An urban sanctuary in a town of sky-piercing towers, Gramercy Park defines the neighborhood that extends from 14th to 23rd Streets and from Park Avenue South to Third Avenue. The park itself is the only privately-owned park in New York City.
When Peter Stuyvesant bought the large tract of land that included Gramercy Park from the Dutch West India Company in 1651, the area was a swampy marsh. Its name is an Anglicized version of krom moerasje, Dutch for little crooked swamp.
Real-estate wizard Samuel B. Ruggles bought and drained the land in 1831, dividing it into 108 lots. The park in the center was comprised of 42 lots, and homes were built on the remaining 66. Residents of buildings on the original surrounding lots are co-owners of the park who possess keys to enter it.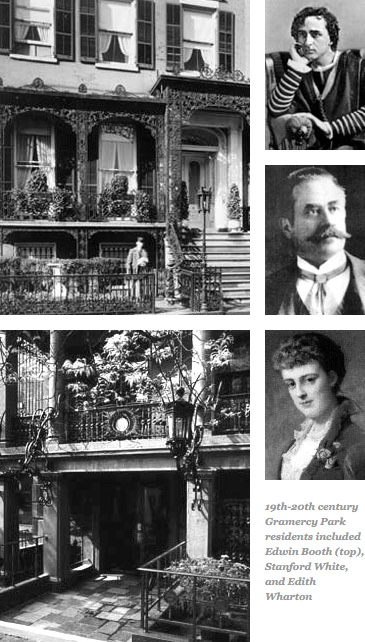 Many architecturally significant buildings now encircle the park. Among them is 34 Gramercy Park East that is the oldest surviving co-op in the city (built in 1883), it was the first ever residential building to boast an elevator. 15 Gramercy Park South, the largest Victorian mansion in town, was designed by Calvert Vaux and now houses the National Arts Club. Next door, the great Shakespearean actor Edwin Booth founded another club in 1888 that he called The Players. Lots 27 through 30 contain the beautiful neo-classic Friends Meeting House (now Brotherhood Synagogue) that became a refuge for fugitive slaves smuggled north during the Civil War.
Among the denizens who were born or had lived in this celebrated place are Cyrus Field, Peter Cooper, Stanford White, Herman Melville, Edith Wharton, O'Henry, and Henry James. Artists such as George Bellows, Robert Henri, Ludwig Bemelmans, and Cecilia Beaux have given the area significance well beyond local acclaim.
Art and architecture aside, Arlene Harrison, a trustee of the board of directors of the park and president of the Gramercy Park Block Association who raised her two sons there, enthusiastically explains that it's what urban living should be. We agree.